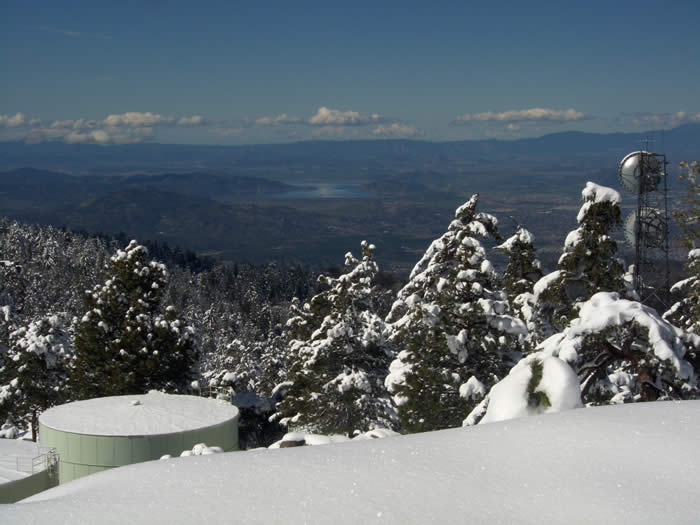 Mission Statement:
It is our mission to provide ample
amounts of potable water at a reasonable
price to all constituents within the Pine
Cove area.
*******************************************************************
Pine Cove Water District is going into Stage 2 Mandatory Water Conservation, effective 6/1/15!
Jerry Holldber, General Manager informed the Board of Directors at the May 13th 2015 Board Meeting that Pine Cove will be going into Stage II Mandatory Water Conservation, due to orders by Governor Brown. Jerry also asked the Board for their approval to remain in Stage 1 billing prices, even though we are in Stage II. Board agreed unanimously!
*******************************************************************
Stage 1 is voluntary compliance. Customers are asked to conserve, when possible, the amount of water used to that amount necessary for domestic and business purposes. Fix leaky plumbing, prevent irrigation runoff, refrain from washing down sidewalks, driveways and parking areas and avoid sprinkling unplanted areas for dust control. Customers are encouraged to utilize wood chips and mulch around all plants and trees to minimuze outside watering.
Stage II is mandatory compliance. Customers are required to limit irrigation of outdoor plants and gardens to the period between 6:00 PM and 8:00 AM daily and stop all water runoff. Customers cannot fill or refill swimming pools except the small amount needed to replace evaporation in already filled pools. Vehicles can only be washed using a bucket and a hose with a shut-off nozzle. Immediate repairs must be made to any and all leaking water lines and faucets in household plumbing and yard piping. Customers must also cease watering native vegetation and unplanted areas for dust control. Restaurants shall only provide drinking water to patrons upon specific request.
Stage III IS MANDATORY EMERGENCY RESTRICTIONS. No water shall be used to irrigate outdoor plants, trees or landscaping of any kind, or any time. No water shall be added to swimming pools, hot tubs, or spas to replace evaporation loss or for any other purpose. No water shall be taken from fire hydrants for any reason except for fire emergencies or for the maintenance of system water quality. Water use for construction purposes shall be minimized and no water will be used for dust control, washing structures, sidewalks, driveways or parking areas. Washing motor vehicles and equipment is not allowed except from a bucket using a hose with a shut-off nozzle. In addition, water users shall make immediate repairs to any leaking line or faucet in household plumbing or yard piping.
**********************************************************************************************************************
The District is very proud to accept the District Transparency Certificate of Excellence from Special Districts Leadership Foundation! We are 1 of 7 Special Districts in the State of California that have received this honor!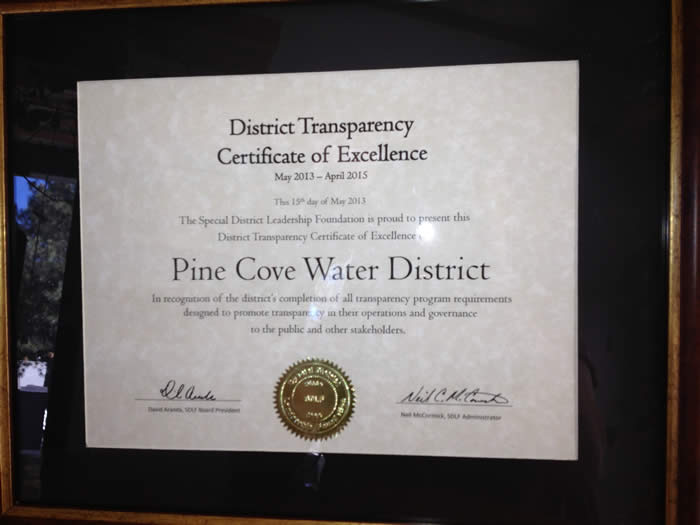 Pine Cove Water District was formed August 2nd, 1956, pursuant to the County Water District Law, Division 12, of the Water Code and more specifically, section 30321.
We provide potable water to the following service area:
PINE COVE WATER DISTRICT
Pine Cove Water District
24917 Marion Ridge Dr.
PO Box 2296
Idyllwild, CA 92549-2296
Phone: 951-659-2675
Fax: 951-659-3112
E-mail: info@pcwd.org
Regular Business Hours:
9:00 a.m. to 4:00 p.m.
Please be aware that the Advanced Minimum that the District charges in the amount of $53.00 was increased to $57.00 on April 1, 2015. This increase was approved on April 1, 2015, Resolution #504.
NON AVOIDANCE OF MINIMUM BILLING: Minimum advanced billing and payment thereof is used for administrative expenses, minimum maintenance and fixed funding charges of the District and may not be avoided by seasonal disconnection of service with subsequent reconnection. All meters active or inactive will be billed advance minimum charges every two months, as per Resolution #266.
Please click the link below to be directed to the Interagency Incident Support Website. You can find Incident information, weather predictive services and more:
http://gacc.nifc.gov/oscc/predictive/weather/index.htm
In a medical emergency, or in case of a fire, call 911.....do not call the local fire departments. Your emergency call needs to be routed through the proper emergency channels.
In an emergency such as fire, or evacuations, tune to 1610 on your radio dial to tune into our local radio station WNKI.
Please click below to see our Budget for the 2014/2015 Fiscal Year, Resolution #498:
Resolution 498 - Budget for 2014-2015 Fiscal Year
Please check out our Pine Cove Water Blog....you will find new and useful information, as well as having the ability to tell us what you think. We will periodically have surveys, and we really look forward to your input! You can also find our Blog at www.pinecovewaterdistrict.blogspot.com.